'Kickstarter is a fantastic way to pitch your ideas to the world'
Anna Hughes used the funding platform to self-publish her 'hybrid between children's book and artist's book'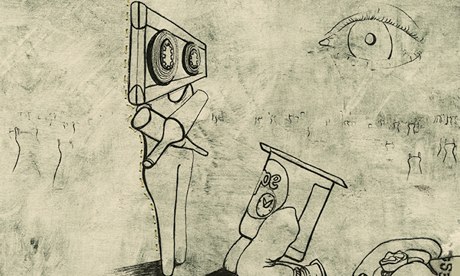 An image from Crockett's Fall by Anna Hughes. Illustration: Anna Hughes
Why did you choose to self-publish?
After looking through various format requirements and complicated application processes for publishing houses I realised that it would take the same amount of time to just put the book together myself! Initially I was only going to print one, as a novelty, to see my work in a finished book-format. When I decided to take it further, self-publishing seemed like the most straightforward option.
Tell us a bit about your book.
Crockett's Fall follows the turbulent relationship between Crockett and Poppy, in a rather surreal, eerie environment. The book is illustrated through printmaking and collage mixed with pencil drawings and gold embroidery. It endeavours to tell a complex story of power-shifts with very simplistic, minimalist prose. The book is a hybrid between an 'artist's book' and a children's book.
What are the positives of self-publishing?
Your book being printed doesn't depend on a stranger's opinion of it. Through self-publishing you maintain complete control over exactly how it is written, designed and laid out. It is a fantastic thing to see your idea and vision through from complete infancy to finished product.
And the negatives?
You really need to continually question if you're being self-critical enough while creating, but at the same time remain confident enough to press on at all times and not let your own fear or self-doubt slow you down. You need to develop and be competent in a number of areas; at points it can feel like running a small business. I was writing, illustrating, designing, determining layout, ordering, pricing, marketing, shipping and promoting – it can be exhausting! And at the end of all of that, there's no guarantee that even one copy will be sold.
Would you do it again?
I would most definitely do it again. It's a wonderful feeling to hold the first copy of your own book in your hands. It's also a great luxury to be able to create the book exactly as you feel it should be.
Have you worked with an editor or designer?
I wrote and illustrated the book myself as well as designing the font for it. I felt confident enough to do all the design work. I didn't work with an editor… to be honest it never occurred to me. I did the whole thing from my living room and studio-space, so it always felt very small-scale. I also had absolutely no budget for anything more than the books themselves. The narrative only consists of a couple of hundred words so it wasn't unmanageable.
Tell us how you have used Kickstarter.
I didn't have the money to order more than a few books so I had to source the finances from somewhere. Kickstarter seemed ideal because it could financially see the project through, while directly gauging interest at the same time. Kickstarter is a great gamble. If you don't reach or exceed your exact target you end up with nothing…luckily it all worked out for me.
It's a fantastic way to introduce your creative ideas to the world. It cuts out any middle-man; it's the artists and creators pitching their ideas directly to the public. There's no one deciding whether it's worthy of reaching the public or not. Launching a Kickstarter project can take months of preparation. It's an awful lot of work but if it works out you're given the opportunity to see a dream through!
Can you talk us through how you're publishing – print and ebook? DRM or no DRM? How you are pricing it?
I used Blurb to print my books. As the book is largely image-based I wanted to make sure the rendering of the colours was precise and the quality of the paper was high. Blurb offered both of these things. The only downside was the price – I always wanted the first edition of the book to be a hardback, which cost me £30 per book. I didn't want the book to become unaffordable, so sold them on at the same price plus postage. I toyed with the idea of an ebook but in the end decided against it. The book, because of the images, is really something that needs to be held in your hands.
Give us a taster.
"Crockett often glanced back to ensure Poppy was where she had asked him to wait… There were days when Crockett lost sight of the paintbrush and she considered going back, but she didn't."
What other self-published titles would you recommend?
Cristina De Middel's Afronauts is fantastic and very inspirational.