Anzac Veteran Inspires New Book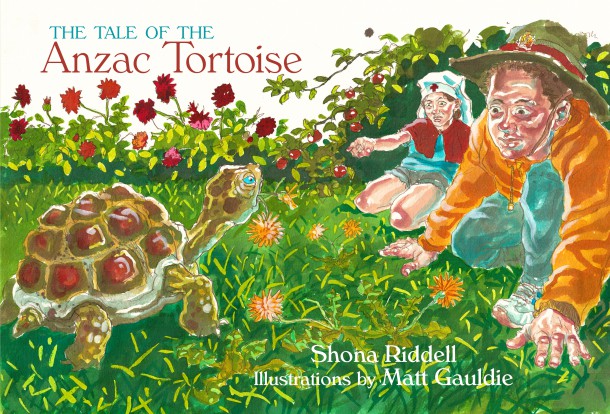 Wellington writer and journalist Shona Riddell had a story to tell. Her great-great aunt Nora was gifted a tortoise by a wounded soldier in the Middle East during World War One. It became a family pet and a bit of a hero in Raumati until passing away in 1994. Shona got together with official Defense Force artist Hon. Captain Matt Gauldie, kicked off a kick starter campaign and contacted us at PressGang. The result is Anzac Tortoise which has sold beyond expectations.
The book is available on amazon (http://www.amazon.com/Tale-Anzac-Tortoise-Shona-Riddell-ebook/dp/B00ZWCE6B0) and iBooks (https://itunes.apple.com/nz/book/the-tale-of-the-anzac-tortoise/id1007044266?mt=11).
The book gained a lot of publicity, including this piece from scoop:
Anzac Tortoise tale based on family history
To mark this year's centenary of the Anzac Gallipoli landings, NZ's official Defence Force artist, Hon. Captain Matt Gauldie, and Wellington writer Shona Riddell have created a new children's book about a time-travelling war tortoise.
The Tale of the Anzac Tortoise is a story about two children, a brother and sister, who meet a real-life war tortoise and go back in time to witness the battles of Anzac Cove in 1915.
The story, which is aimed at primary school aged children, involves bravery, sacrifice, family, and remembering those who risked their lives and those who never came home.
The book's illustrations are watercolour paintings and can be seen at the NZ Academy of Fine Arts in Wellington until 31 May. The book is also available for sale at the Academy.
Hon. Captain Matthew Gauldie has been New Zealand's official Defence Force artist for almost 10 years, one of just a few artists ever to be selected for this prestigious role. Over the past decade he has produced many paintings and sculptures of military subjects for official army exhibitions (including at the Museum of Auckland).
Matt is also an award-winning artist independent of his army role. He has exhibited his work publicly through dozens of solo and group exhibitions for almost 20 years, covering themes ranging from rural New Zealand to Maoritanga to Wellington's nightlife.
Shona Riddell has been a writer and journalist for over 15 years, both in NZ and overseas. Her writing has been published in the New Zealand Herald, the Listener, the Sunday Star-Times, and NEXT magazine, among others.
Shona's family history provides much of the inspiration for the story. Her great-great aunt Nora was stationed in the Middle East during World War One as a nurse, and received a tortoise from a wounded soldier who had put him in his pocket for safe keeping. The tortoise, originally named Peter, was a family pet who finally passed away in 1994 after a quiet retirement in Raumati. He was featured in several newspapers as an "Anzac veteran".